Sign up for FREE and start reading Jemma 1 in minutes…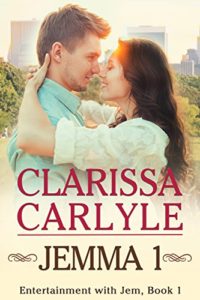 Entertainment with Jem, Book 1. Jemma is a blogger in need of quick cash. Daniel is a reality TV star in need of some good PR. A perfect match. But nothing in the entertainment world is ever easy, especially when a burning passion between them ignites.
Get your copy of JEMMA 1 and fall in love with an irresistible couple destined to beat the odds to have their happily ever after.
Draws you in very quickly and makes you want to keep reading. Can not wait to read the next one!" – S. Sanford
"The characters are wonderful and I need to read more of this book. Amazing writing!" – Lydia G.

"I Loved this book and I love this author!" – Deborah L.

"I found myself cheering for them to get together." – Phoenix R.